CDC: 200,000 people die needlessly every year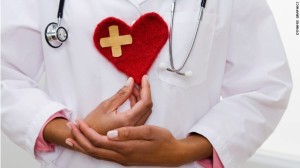 Every year, nearly 800,000 people die from cardiovascular disease. That's 30% of all deaths under the age of 75, according to a new study from the Centers for Disease Control and Prevention. And nearly a quarter of those deaths could be prevented, the study authors found.
That's 200,000 lives that could be saved every year, said Dr. Thomas Frieden, director of the CDC.  Particularly striking is the fact that 56% of those deaths occurred among people under the age of 65.
"We're talking about hundreds of thousands of deaths that happen when they don't have to happen," said Frieden.
Prevention can be as simple as following the "ABCS," says Frieden:  Aspirin, blood pressure control, cholesterol management and smoking cessation.
"It sounds so simple," says Dr. Ralph Sacco, former president of the American Heart Association.  But, he adds, "getting people to get their blood pressure under better control, cholesterol managed and (to) stop smoking" isn't easy.
Which is why Frieden also pointed to the need of community based initiatives, like the Sodium Reduction in Communities Program, a county level effort to reduce sodium in schools and restaurants.  In addition, he believes the use of electronic health records can contribute to better identifying and supporting patients who need help in quitting smoking and blood pressure management.
It's never too early to start, Sacco said. "Focusing earlier and younger on the right thing," he said. " Getting kids to focus on healthier diets and exercising."
Heart disease and cancer remained the 1st and 2nd leading causes of death, respectively, over the 75-year period.
Percentage of all deaths due to five leading causes of death by year: United States, 1935–2010
NOTE: 2010 data are preliminary.
SOURCE: CDC/NCHS, National Vital Statistics System, Mortality.
(SOURCES: CNN)